BI Solutions Celebrates 15 Years of Service
BI Solutions, Inc. (BISI) has reached a milestone this month, celebrating 15 years of business.  One of the many highlights of BI Solutions' past 15 years occurred in August when BISI staff traveled to the Pentagon to be presented with The Admiral Stanley R. Arthur Award by Vice Admiral Smith.  This national award recognized excellence in BI Solutions' work with the US Navy in logistics planning and execution on the LOGCELL (Logistics Cell) project which transformed the Navy's supply chain reporting.
Employees and their spouses joined in a celebratory dinner recently.   "We have weathered challenging economic times of the past 15 years because of the quality of our employees.  It is a testament to their hard work and effort that we are here today and I'm glad they are all a part of the BISI family", president Erica Bryce commented.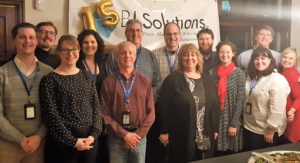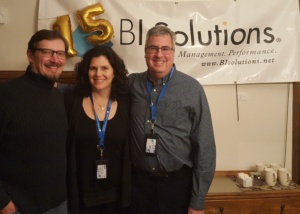 Admiral Stanley R. Arthur Award for Logistics Excellence
BI Solutions, Inc is honored to receive the 2016 Admiral Stanley R. Arthur Award for Logistics Excellence as a member of the Naval Supply Systems Command Weapon Systems Support P-8A Logistics Cell (LOGCELL) team. The Admiral Stanley R. Arthur Award is a national award presented annually to recognize military and civilian logisticians who epitomize excellence in logistics planning and execution.  BI Solutions is the prime contractor of the LOGCELL project, which supports the P-8A Poseidon, the Navy's maritime, patrol and reconnaissance aircraft. The award was presented to BI Solutions by Vice Admiral D.R. Smith during a ceremony at the Pentagon on August 14, 2017